We make beautiful organic chocolate on the inside and out
We make beautiful organic chocolate with a 'less is better' approach to ingredients and processors and a 'more is better' approach to thoughtfulness, quality, and transparency.  We believe in quality over quantity, using fewer ingredients and saying no to additives that are not necessary to make good chocolate like chemicals, emulsifiers and animal products -including milk.   We call this good old kiwi attention to detail and generations of Swiss attention to chocolate craft.  It's all part of our mission to change how you see chocolate – from 'junk food' to 'better food', packing a punch with a high cocoa content of 60% and more and clean, traceable ingredients.  We make it all happen in our carbon-neutral factory because being a Net Climate Positive Brand, B-Corp Certified, and a living wage accredited employer is all part of creating beautiful chocolate inside and out.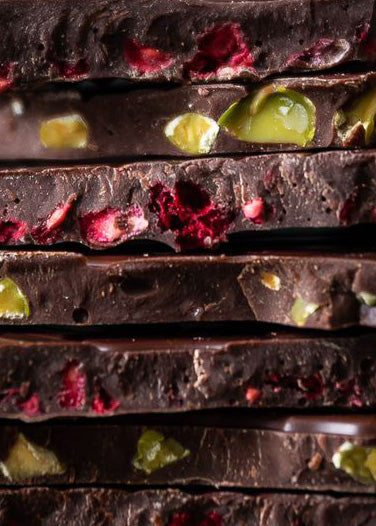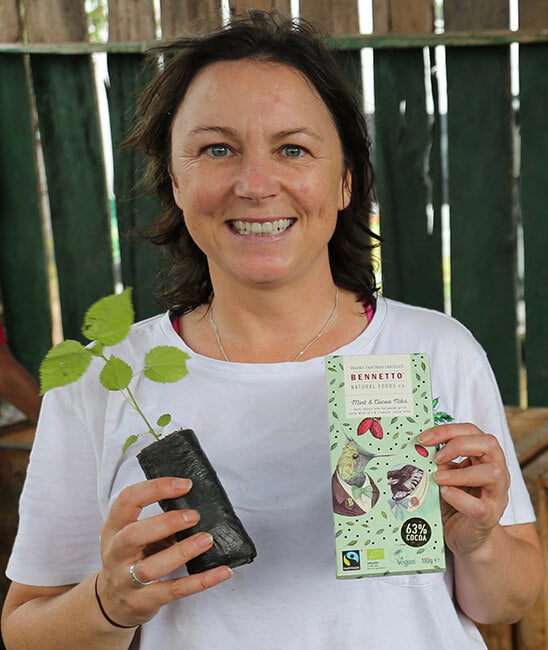 Meet Lucy
Bennetto Natural Foods was founded by Lucy Bennetto, a high school English and Drama teacher who happened to love chocolate. Lucy made her first chocolate bars from scratch in 2010. The journey began from the kitchen bench top with a spice grinder, a box of organic cocoa beans, and a few eager students as taste testers.
This led to a curious desire to see first-hand how the cacao beans were grown; Lucy travelled to the Dominican Republic. This was the moment she saw how ethical sourcing from an organic and Fairtrade cocoa supply was imperative to her values of making chocolate and how these practices improve lives and the quality and flavour of cocoa. She continued to create for herself 2kg batches that were high in cocoa, natural, organic, and sourced from Fairtrade cooperatives Lucy had visited. And continued to use her students as free guinea pigs.
Thirteen years on, Lucy's chocolate is still made with the same values, dedication to taste, ethical sourcing and quality. The test kitchen remains in Christchurch from the garage convert where it all begun, and all new product development still begins it's life there. However, due to the ability to scale sustainably and organically, it is now made by Switzerland's leading sustainable chocolate manufacturer and enjoyed by conscious consumers across Australia and New Zealand. Her passion for health, organic food, and protecting nature continues. She is dedicated to using the brand Bennetto as a platform for social and environmental impact.